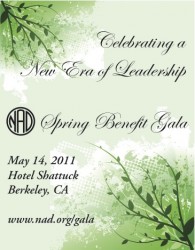 The National Association of the Deaf (NAD) is pleased to announce the second annual NAD Spring Benefit Gala set to take place on Saturday, May 14 at the beautiful Hotel Shattuck Plaza in Berkeley, California. The theme of this year's gala is "Celebrating a New Era of Leadership" in recognition of new leadership at the NAD with incoming Chief Executive Officer (CEO), Howard Rosenblum.  NAD President Bobbie Beth Scoggins will inspire attendees with a vision of the future for the NAD and Academy Award winning actress and Marlee Matlin as honorary gala chair will introduce Howard Rosenblum. TL Forsberg, a deaf rock star, will provide spectacular entertainment and nationally-known comedian CJ Jones will emcee the event. The evening will conclude with a live auction for one-on-one breakfast gatherings the following morning with NAD leaders and celebrities in attendance.
Join us for an elegant evening, cocktail hour & three course dinner with wine. Your participation will benefit and sustain the NAD and its tireless work on behalf of the American deaf and hard of hearing community. Individual gala tickets are $150.00 per person ($75 is tax-deductible). "Invest in the Future of NAD" with an additional $50 donation (and receive a badge to wear at the Gala).
Individual tickets are SOLD OUT! Corporate Table Sponsorships are SOLD OUT! Thank you for your support.
The 2011 NAD Spring Benefit Gala is chaired by NAD Region IV Board Chair Julie Rems-Smario. Committee members include Daniel Girard, Daniel Langholz, Michael Michner, Sheri Farinha, Bridgetta Bourne-Firl, and Jim Brune.
For more information about the 2011 NAD Spring Gala, visit https://www.nad.org/gala.