Our daily read. Enjoy issues from Team E and A!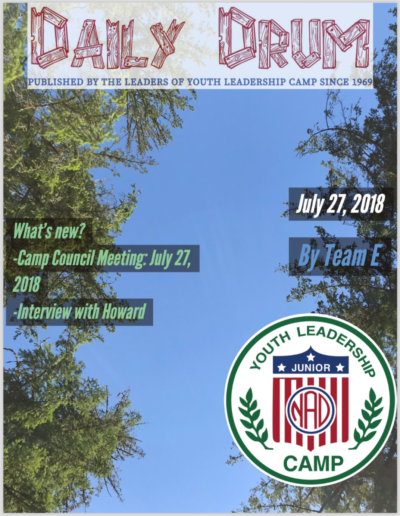 GRAPHIC DESC: Background image of trees and sky. Daily Drum header is on top of the page. NAD YLC logo is placed on the bottom right.  Texts are centered " July 27, 2018 Team E" "What's new? Camp Council Meeting: July 27, 2018, Interview with Howard"
Our Daily Drum issues are developed, written, edited and designed by our YLC 2018 leaders.
Camp Council
Camp Council is now in effect after having elected the full board for the Summer of 20189! ! Congratulations to those who were elected for President, Vice President, and Secretary, by the way! As the meeting began, two new events were announced for YLC: Camp Project and Banquet Night thus opening up the sign up sheets for any of our leaders to become chairpersons for events. Not only that, the Youth Leadership Ambassador Program's – taking place on August 4th- chairperson announced that sign up sheets for contestants, committee members, and judges are open for sign ups. There were three motions made at the meeting by three different leaders, however one of the motions were passed with a long discussion and a round of voting. The motion stated that the time to leave the cabins in the mornings should be changed to 6:30 a.m. instead of 6:45 a.m. due to female leaders stuck in line for the bathroom and not showing up on time to morning workouts. The first official Camp Council meeting of the summer turned out to be a meeting to remember as we all made our first passing motion which will be reviewed by the Administration team and given a result as soon as possible. Tune in for more upcoming Camp Council information for the rest of the summer!
Written by Jared Herman and Gabriella Rodriguez
Interview with Howard Rosenblum
How did you become NAD CEO?
In the history, there was only 7 CEOs. During Howard's time, they decided to set up the committees group to choose the person for the CEO position. Howard made it into the final four. One night, NAD called Howard to let him know that he has been chosen as a CEO.
What is your toughest experience as CEO?
The toughest experiences are disagreements between the community and the NAD Board members. Howard has to make a final decision. For example, a governor from South Dakota- he is CODA (with deaf parents). The governor is Republican. And he doesn't support LGBT, women's rights, and abortion right too. The community was upset because NAD decided to invite the governor, the community felt offended. Howard has to go through that and made a decision, but the governor didn't come anyway.
What are your goals as CEO?
Recognition for NAD in the hearing community, including the whole society. Fundraising money to support NAD and making sure that NAD has enough money. Third, sue a lot of hearing people to make sure that deaf people has rights too.
GRAPHIC DESC: Background image of a highway in middle of a forest. Daily Drum header is on top of the page. A transparent box is placed on the right with text "Camp Bowl, Debate Time!, Cabin Decorating, Fun Facts!" NAD YLC logo is placed on the bottom left with "July 27, 2018 Team A"
Our Daily Drum issues are developed, written, edited and designed by our YLC 2018 leaders.
Debate Time
Written by Jenica Teregeyo and Menelik Tavares
On July 26th, Team A  had a debate in the afternoon against Team D, the topic was: Plastic Straws banned in America. Team A were the ones who don't support the fact that Plastic straws are now banned. For example, one of our facts we shared were reducing the amount of straws used, helps reduce harm to wildlife. Team D explained that it shouldn't be banned because people with Disabilities might not be able to survive without straws for health and medical reasons. We had about a 30 minute long debate to that topic, our judges wouldn't announce the results until later that evening. Of course, many of us were anxious to see who won the big debate. As time flew, it was finally time to announce who won the debate at fireside… guess which team won? Team A! We were thrilled and went to bed in a good mood knowing that winning or losing, we never gave up! Stay tuned for more exciting things to happen within the A Team! Go Team A!!!
Cabin Competition
Co-written by Meghan Luebehusen and Swapnil Patel
Do you know what is the fun thing to do after a long day at Youth Leadership Camp? Of course! The answer is DECORATING OUR CABINS!!! You may wonder why do we have to decorating our cabins? The answer; this is a competition for all campers who slumber in the cabins. Our two builders are Amelia Milling and Aneesha Lane who are our judges that investigate our cabins to see if we followed the theme. We are sure that you are very curious to know what is the themes for to decorating our cabins. The previous themes that we did decorate our cabins are: nature, shoes, yarn, a bowling arena, and a scarecrow. Today's theme is emoji. We can use anything to create the emoji theme in our cabins. There will be separate competitions for boys and girls cabins. CROSSING OUR FINGERS FOR TONIGHT TO SEE WHO WON THE COMPETITION FOR THE EMOJI THEME!!!
Fun Facts: To Make You Think!
Your nose is always in your line of sight, but your brain chooses to ignore it.