The NAD Internship Program is designed for college students and recent graduates interested in gaining valuable experience in a creative, fast-paced nonprofit organization. The interns bring a diverse set of experiences, skills, and most importantly, a willingness to learn and to contribute to our mission and goals.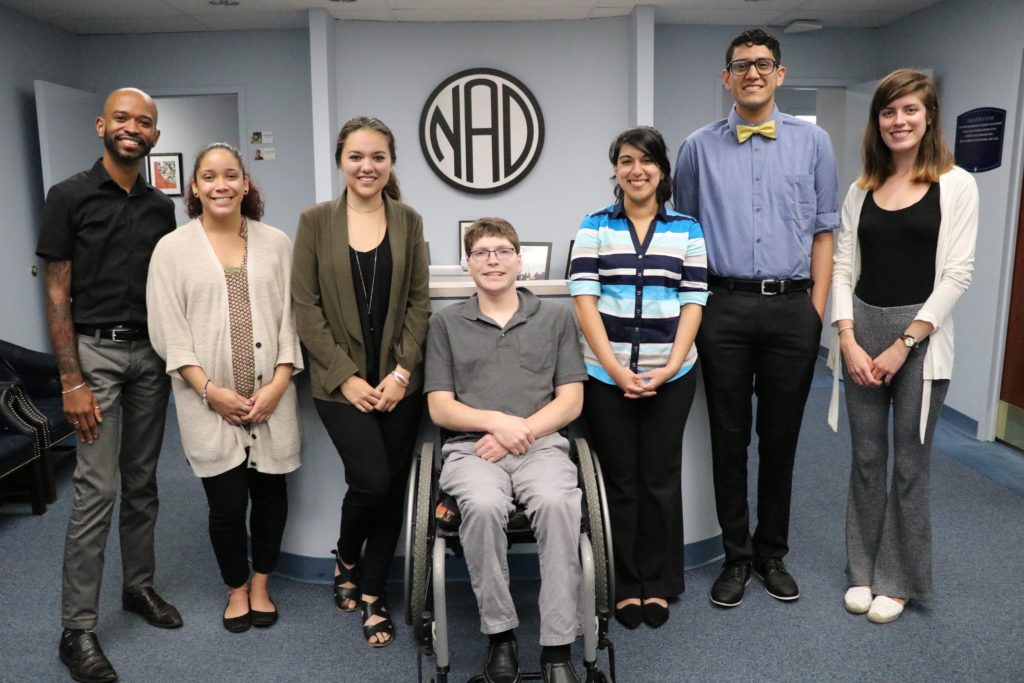 (L-R: Nathaniel, Claudia, Lena, Jeremy, Nida, Ernesto, and Shirley)
Nida Din
As a deaf person, Nida has experienced and seen discrimination against the deaf community, especially in education, employment, mental health, and healthcare. Nida strongly believes that deaf people should be given a fair chance to show their abilities, develop their personalities, and live their life to the fullest. Nida has a Bachelor of Arts degree in Consulting and Change Management at the University of Texas (Hook 'em Horns!) in Austin. Nida just completed her first-year attending the University of Houston Law Center in Houston, Texas. After finishing law school in the next two years, Nida plans to advocate to promote a fully accessible world for deaf people. Nida appreciates the opportunity to be this year's Nancy J. Bloch Scholarship intern.
Claudia Giordano
Claudia was born and raised in the Garden State, in Southern Jersey specifically, where she grew up loving to eat fresh sweet corn with her family. Claudia recently graduated from Gallaudet University in May with a Bachelor of Arts degree in Communication Studies and Family Child Studies. Claudia was raised by a single hearing mother, who learned American Sign Language, incorporated Deaf Culture, and engaged with our deaf community. Claudia believes that it is important to ensure that all families with deaf and hard of hearing children have access to resources they need. During her internship, she works closely with Tawny Holmes, NAD Education Policy Counsel, to learn these tools to better support and collaborate with professionals and parents. The internship experience has allowed her to appreciate the hard work and efforts of being an advocate.
Nathaniel Kelly
Nathaniel is originally from New York City and currently lives in Washington, D.C.  Nathaniel is a senior at Gallaudet University pursuing a Bachelor of Arts degree in Communication Studies. He is thrilled to have an opportunity to intern with Zainab Alkebsi, NAD Policy Counsel. Nathaniel looks forward to completing his projects and learning about current policy issues impacting our deaf community. After graduation, he wants to work for a non-profit organization. With this internship, he hopes to gain a crystal-clear understanding of how a non-profit organization works and how to advocate for the community's needs in different areas. Nathaniel enjoys working with people and making a difference in as many ways as possible.
Lena Kettering
Lena was born in the Philippines before moving to the United States with her family. In high school, after reading To Kill a Mockingbird for the second time, Lena knew that she wanted to be an attorney to advocate for others. Lena graduated from the University of California Los Angeles (UCLA) with a Bachelor of Arts degree in Political Science. While at UCLA, Lena took some American Sign Language (ASL) and Deaf History courses and fell in love with Deaf Culture. Eventually, Lena decided to pursue a career in deaf advocacy and deaf rights. Lena moved to Washington, D.C. in August 2016, and is currently a law student at The George Washington University Law School (GW). For her internship, Lena is working closely with the NAD Law and Advocacy Center to advocate for the legal rights of deaf and hard of hearing people across the United States. When Lena isn't at work, you can find her at home reading the latest book on social psychology, or watching a stand-up special on Netflix.
Victoria Morel (not pictured)
Victoria was born and raised in upstate New York and is going into her third year at the Rochester Institute of Technology, studying to obtain a Bachelor of Science degree in Criminal Justice with a minor in Psychology. Victoria is considering a career in disability rights advocacy, specifically for the deaf community. Victoria seized the opportunity to intern at one of the nation's premier civil rights organization, the NAD, with Anna Bitencourt (NAD Attorney). Victoria met Anna during #NAD2016 in Phoenix, Arizona. Victoria is extremely thankful to be involved in experiencing a diverse work environment and deaf culture since she grew up oral in a strong Dominican family whose primary languages were English and Spanish while attending mainstream schools. After her internship, Victoria will be the Director of Academic Affairs in the NTID's Student Congress (NSC) at RIT for the 2017-2018 school year.
Ernesto Rodriguez
Ernesto graduated from the California School for the Deaf – Riverside (CSDR) and is currently a student at the National Technical Institute of the Deaf / Rochester Institute of Technology (NTID/RIT). Ernesto studies Business Technology and is the manager of the RIT Women's volleyball team. He was born and raised in Oxnard, California. Ernesto loves indoor volleyball, beach volleyball, hiking, art, and movies! He believes this internship is an amazing opportunity for him to network and gain valuable experience.
Shirley Ann Shannon Martinez
Shirley was born in Altamonte Springs, Florida and moved to Puerto Rico when she was six years old. She attended a deaf school, Colegio San Gabriel, in San Juan for three years. Eventually, she moved to a mainstream school as the only deaf student in beautiful Aguadilla where she grew up. Aguadilla will always be home for her. Shirley studied at the University of Puerto Rico in Aguadilla for four years, studying Elementary Education. Later, she transferred to Gallaudet University in the Fall of 2013 and recently graduated in May with a Bachelor of Arts degree in Communication Studies. Gallaudet University was an enriching experience because it helped Shirley learn more about her deaf identity. Shirley modeled for Miss and Mister Deaf International representing Miss Puerto Rico in July 2016 in Las Vegas. She won the title as Miss Deaf America. She plans to return to Puerto Rico with the goal of supporting the deaf community.
Jeremy Smith
Jeremy grew up in Fairfax, Virginia and recently graduated from Gallaudet University with a Bachelor of Arts degree in Communications Studies. As a student, he was involved with the D* student organization which is an advocacy related club on campus of/by/for people with disabilities; he was Vice President then President. Jeremy also worked at the Office of Diversity and Equity for Students and appreciated his experience there. His passion is advocating for people with disabilities because of his own journey with different experiences as a person with disabilities. Jeremy believes this internship provides a great opportunity to better understand how the NAD works behind the scenes. He had not been involved with the NAD until now! He appreciates working with the other interns and enjoys discussing projects together. Jeremy's hobbies include watching WWE and relaxing outside when the weather allows.