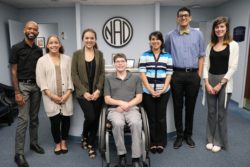 The NAD Internship Program is designed for college students, law students, and recent graduates interested in gaining valuable experience in a creative, fast-paced nonprofit organization. The interns bring a diverse set of experiences, skills, and most importantly, a willingness to learn and to contribute to our mission and goals.
Additionally, we accept applicants for the Nancy J. Bloch Leadership and Advocacy Scholarship every summer; the application process begins in the Winter and recipients will be notified in the Spring.
Otherwise, we welcome all interested people to complete their internship requirements with the NAD! Fill out your interest below.