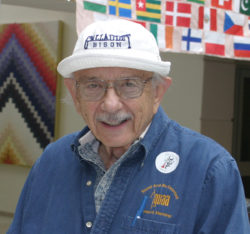 Dr. Gerald "Bummy" Burstein of southern California, one of the greatest trailblazers of our community departed at the age of 91 on August 31, 2018. The National Association of the Deaf (NAD) mourns his passing; his distinguished life will continue to leave its mark for generations to come.
Dr. Burstein (photo: Gallaudet University) was the second deaf Certified Professional Parliamentarian (CPP), the highest level recognized by the American Institute of Parliamentarians (AIP), as well as a member of the National Association of Parliamentarians (NAP). With his comprehensive expertise in parliamentary procedure, he brought improved order and efficiency and countless deaf organizations and schools across the country as well as internationally. He shared his knowledge as the author of "Basic Parliamentary Procedure," "Bummy's Successful Meeting Procedures," as well as through an ASL video, "Bummy's Basic Parliamentary Workshop." He greatly aided the NAD through several biennial national conference business meetingsas parliamentarian; he also worked with local, state, and national organizations.
NAD President Melissa Draganac-Hawk (2016-present), in looking back on her many interactions with Dr. Burstein: "Bummy as a national leader and parliamentarian was a source of inspiration to so many; he served as a model of professionalism, wisdom, diplomacy, compassion, humor, and respect. His kind personality and strong spirit will be missed by everyone – the impact and lessons of his leadership will continue to live on in our community."
Elizabeth "Libby" Pollard, who served as NAD President for two terms (1998-2002), was inspired by Dr. Burstein: "When I first met Bummy, I was impressed by his detailed knowledge of Roberts Rules of Order. He encouraged me to study parliamentarian procedure, and in 2011, I became a certified parliamentarian. Many times, I expressed gratitude to Bummy for his encouragement – I know he motivated countless others as well."
Robert "Bob" Weinstock, Manager of Enrollment Communications at Gallaudet University and a parliamentarian, fondly remembers Dr. Burstein: "I was honored to serve as co-parliamentarian with Bummy on several occasions, sitting together in his brilliantly-conceived 'Bummy Box.' I was awestruck by how seamlessly he performed his duties and how eloquently he presented his advisory opinions."
Dr. Frank Turk recalls Dr. Burstein as "one of the significant supporters of several youth leadership programs including the Junior NAD, the NAD Youth Leadership Camp, and the National Leadership and Literacy Camp (NLLC), including volunteer service as parliamentarian and trainer." Dr. Turk remarked that "Bummy encouraged students to measure up to capacity, generously shared his time and expertise with them, and demonstrated confidence in their ability to succeed in whatever they pursued."
Bill Stark, former Project Director for the federal Described and Captioned Media Program managed by the NAD remembers Dr. Burstein with appreciation: "Bummy was involved with Captioned Films since the early 1960s – he was a captioner, a regional depository manager, and then a library manager when the regional configuration ended. He worked with DCMP through the transition from 16mm films, to VHS and DVD videos, to present-day video streaming. He served as library manager up until 2008 when DCMP ceased housing of captioned materials at residential schools for the deaf."
Born in Brooklyn, New York, Dr. Burstein was such a fan of the Brooklyn Dodgers, which were called "dem bums" that he acquired and was known by the nickname "Bummy." He graduated in 1943 from Junior High School 47 (known as JHS 47 and also as PS 47), and then graduated from Charles Evans Hughes High School in 1946. He attended City College of New York (CCNY) and then transferred to Gallaudet University where he graduated in 1950. After 15 years of teaching at the Minnesota School for the Deaf, he attended the National Leadership Training Program at California State University in Northridge (CSUN) and in 1965 obtained his Master's degree in Administration and Supervision. He then taught at, managed media services, and served as an administrator at the California School for the Deaf-Riverside (CSDR) for 37 years, for a total of 52 years in the field of deaf education. Dr. Burstein has also received numerous awards including an honorary Doctor of Laws in 1986 and the first Deaf President Now Leadership Award in 2005, both from Gallaudet University.
Dr. Burstein's commitment to the deaf community went far beyond parliamentarian work and educational services. He volunteered for many organizations and served as the president of several including California Association of the Deaf, Gallaudet University Alumni Association, National Congress of Jewish Deaf; he also chaired several committees under the California Public Utilities Commission.
The life and legacy of Dr. Gerald R. "Bummy" Burstein will continue to live on within the NAD and its membership, many of whom share his love for civic and community service and parliamentary procedure.