Team L drafted this Daily Drum issue. Learn more about Frank Turk's visit to YLC!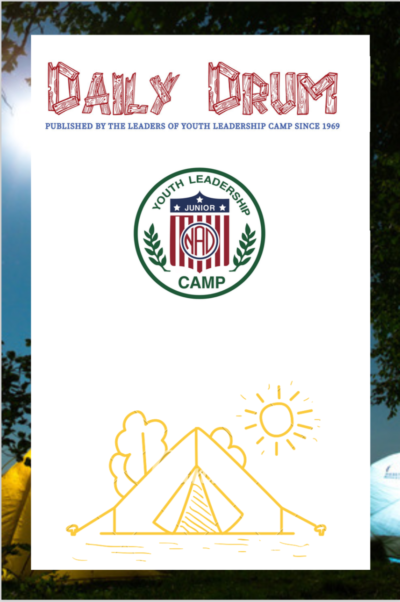 PHOTO DESC: A white rectangle is on top of a scenic background. A daily drum header is top. NAD YLC logo is placed on the middle. An image of a tent is on the bottom of the page.
Our Daily Drum issues are developed, written, edited and designed by our YLC 2018 leaders.
In 1969, Frank R. Turk gave birth to Youth Leadership Camp (YLC). His reason for setting it up was to create more role models and leaders for the deaf youth to look up to. When Frank was young, he only has the deaf athletes to look up to. So that inspires him to set up a camp for leadership. The year 1969 was the year that changed deaf lives forever. YLC is a camp where the deaf youth can learn about how to be a leader for the whole month of July. Also, YLC works with the deaf youth of today to help the deaf youth of tomorrow.
YLC helps everyone with self-development and respect for others. It can boost all of our learning and lead to success in the future. Being a camper at YLC really helps every leader grow. Both leaders and builders learn from each other's mistakes and achievements. Being a camper and a leader helps us learn how to develop and make things better, as well as carry our leadership experiences back to our communities. It is a once in a lifetime opportunity that can build our legacy for the future generations to learn. Lastly, YLC helps the leaders discover their true selves.
SIX THINGS WE ALL CAN TOTALLY RELATE AT YLC…
By Emily Anthony, Ny'Kel Best, Ashely Hess, Kenneth Kennedy, Taylor Wise, and last but not at least, Jacob Lopez
When we wake up at 6:45 AM in the morning…
When you're hungry but there's no seconds…
When you see Lavanda…
Editors:
Jakiya M
Emily P
Cosme A
Kacey M
Emily H
Vanessa B
Taylor W
Jacob L
Zack D
Ariella Z
PJ P
Ashley H
Emily A
Kenneth K
Brianna M
Mohamed A