Team A recaps about our trip to Silver Falls, special guests and solidarity classes.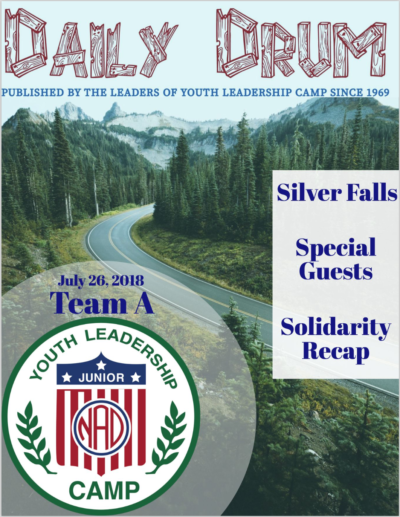 GRAPHIC DESC: An image of a road in the woods. Daily Drum header is on top.  A box with text "Silver Falls, Special Guests, Solidarity Recap" is placed on the center right of the document. NAD YLC logo is on the bottom along with text "July 26, 2018"
Our Daily Drum issues are developed, written, edited and designed by our YLC 2018 leaders.
Our First Field Trip!
On July 25, all of us leaders, builders, and administrators took a field trip to the Silver Falls trail loop to hike. The morning started as usual, with our daily exercise routine at 7 AM sharp. When we completed the exercises, we headed off to breakfast to eat as much as we could before the hike. During the time slot for group processes, we all spread out to collect our cash, sunscreen, bug spray, and other items before getting on the bus. Teams L and E were on bus #1, while teams A and D were on bus #2. The builders and the administration did not let us know how long the bus ride, hike, and other activities were for the day, so we felt like it was quick, but at the same time, it took forever.
Once we arrived to our destination, we all took pictures and milled around for around thirty minutes, and off we went! What we learned in Outdoor Living Skills class from from the past week applied to the hike, as we used P.I.O (Pass It On) frequently during the hike when we encountered obstacles among the trail. We camp upon several different waterfalls along the way. The leaders, builders, and the administration tema stopped to take pictures, videos, and to explore each area. We all ended the day with tons of good pictures, videos, and memories!
The hike itself was approximately two hours long, and two miles. Not one leader knew how long the hike was in miles, and of course, when Jimel Wright, our camp director, announced the exact distance, which was two miles, everybody was surprised! We all thought it was more than 5 miles, because it felt like that! In duration of the hike, all of our leaders, builders, and the administration team got to know each other more, and we all learned a lot. Once we arrived to the picnic area with a small river to swim in, lunch was served. It consisted of either peanut butter and jelly sandwiches or deli sandwiches, along with fruits and variety of chips. After lunch, we had the opportunity to swim in the river, or to go to the gift shop and cafe. The majority of the leaders pent the two hours allotted doing one of the two options. At 3 PM, we all piled up in the bus and went back to YLC campground. The majority of the leaders were exhausted, but most of us decided to go for another swim in the pool until 5:30 PM. We all showered & rinsed and got ready for dinner. Three servings of pasta were served at dinner, which showed we all were STARVING! The day ended with another Solidarity workshop, quick fireside announcements, then recreation time until 9:45, and bed at 10 PM.
The majority of us can agree that yesterday was a great day! We all look forward to more field trips in the coming weeks.
Written by Emily Nover
Deaf Women United
On July 26th, we had a lovely guest speaker who stayed with us for two days. This guest speaker is Lissette Molina Wood and she is the president of Deaf Women United, a Seaf women organization. She came from Miami, Florida to provide us a presentation about it and explain how it all started. Deaf Women United (DWU) was founded in 1985 and is a nationwide organization for women of all ages that are Deaf. The purpose of establishing this organization is to contribute serving Deaf women by providing resources. She explained that women are leaders in different ways such as lawyers, teachers, stay-at-home moms, actresses, and many more. She mentioned few well-known Deaf women such as Lauren Ridloff, Bobbi Cordano, Marie Jean Phillip, Carol "Gertie" Garretson, Christine Sun Kim, and many more. We had a discussion with her about inequality, such as the pink tax, paying incomes, oppression, People of Color and breastfeeding in public. It was a very good discussion because everyone had the chance to explain their experiences, opinions, and what we've seen in articles related to women being oppressed generally. She also added the fact that women who are leaders of this world are not well-known because of inequality.
After the presentation, it made us really take the time to realize a lot of new things that we never aware of. The most important information we got to find out today was an event that will take place in 2019. The event is the DWU conference, #DWUPHX2019, which will take place in Phoenix, Arizona from July 17 – 21. However only women can go to this conference as a safe zone, but she is very welcome to our ideas to help her think of ideas to involve young women into this program. We are very thrilled that she came here to gave us this presentation, we are learned a lot! Many many thanks, Lissette!
Written by Meghan Luebehusen and Maddie Bongard