DSAT Field Testing Protocols, Processes and Outcomes
Step 1: Determining Effective Practices
From the project's onset, the DSAT curriculum was designed within rigorous evaluation protocols. Curriculum development began with a review of the current and best practices around Deaf self-advocacy. The DSAT work team engaged Communication Service for the Deaf (CSD) to identify current, best and effective practices associated with self-advocacy. CSD conducted focus groups with 35 deaf consumers, surveyed over 2,000 deaf consumers, interviewed 12 deaf leaders, and completed an extension literature review. Augmenting CSD's work was a second survey of and 180 rehabilitation counselors and an expanded annotated bibliography conducted by Western Oregon University. The information gleaned from these activities is chronicled in The Case for Deaf Self-Advocacy Training: The Need for a National Curriculum on Communication Access (2009).
Step 2: Development of Deaf Self-Advocacy Curriculum
Using the data gleaned during Phase 1, curriculum was developed by the DSAT work team and independent subcontractor T.S. Writing, a deaf-owned company. The resultant curriculum is a multi-use, flexible advocacy training "tool kit," that can be adapted for a wide variety of audiences (e.g. people of color, low-functioning deaf people, deaf-blind, etc.).
Step 3: Expert Review of the Curriculum
The second part of the field test involved review of the draft curriculum by fourteen experts in the field of deafness and advocacy. The results of this activity are reported in Deaf Advocacy Training: A Curriculum Review, Preliminary Report (2009).
Step 4: Field Testing Curriculum via Widespread Consumer Trainings
To field test the curriculum, 30 individuals representing advocacy agencies and programs were called upon to serve as initial trainers. Two Train-the-Trainer workshops were conducted to prepare them, and pre/post tests and evaluations were developed to track the effectiveness of the trainings they provided.
In total, over a one-year period, 45 training to 600 consumers were conducted as part of the field test. Statistical analysis revealed that participants experienced a 17% gain in knowledge, attitude and behaviors. Consumer satisfaction evaluations also reflected high consumer satisfaction.
Pre/post tests form the foundation of DSAT. Responses from two sample pretest questions are shared below.
Step 5: Obtaining Feedback from 2010 Field Test Trainers
The field test culminated in August of 2011, when fourteen of the original 30 DSAT Trainers returned to Gallaudet for a three-day debriefing and to design a two-day DSAT Train the Trainer workshop for future DSAT Trainers. Working within a full agenda the group reviewed the field test data, shared lessons learned from their training experiences, and guided the curriculum to its next iteration or Second Edition through recommendations.
For more information regarding the DSAT field testing of 2009-2011, please contact DSAT at [email protected]
Pre/Post test data has been collected from more than 300 deaf consumer participants, with new data arriving at the DSAT office every day. Responses from two sample pretest questions are shared below.
Pretest — Deaf Consumer Before DSAT Training believes that Communication Access means…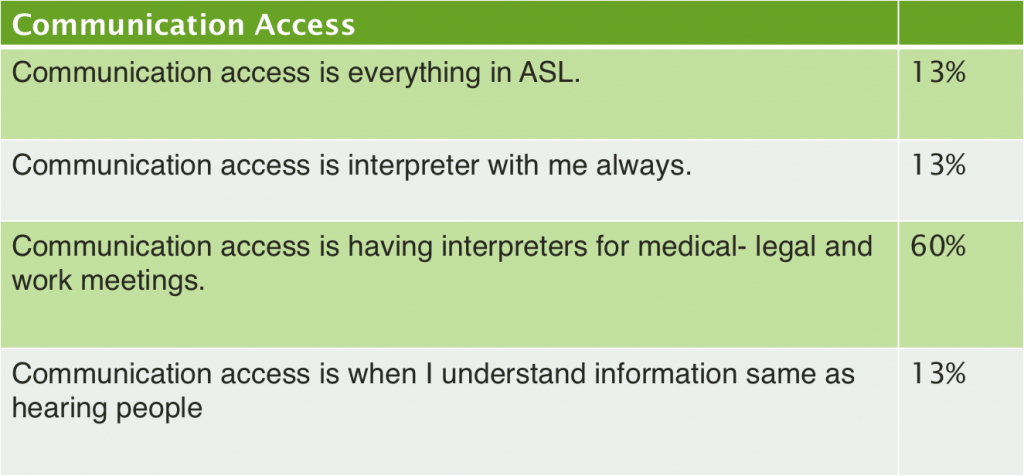 Pretest — Deaf Consumer Before DSAT Training believes that a Qualified Interpreter …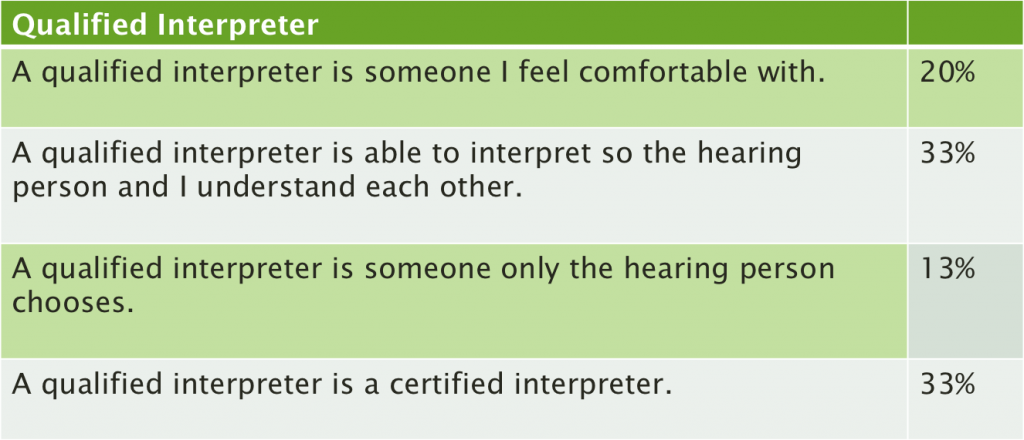 Step 6: Creating and Field Testing of the DBSAT Curriculum
The adaptations provided in the curriculum were developed by Jean Healy and Janet K. Marcous, two DeafBlind professionals and vetted by a panel of experts. The curriculum was then field-tested by ten DeafBlind DSAT Trainers in August 2013. These ten DeafBlind individuals came together for four days, working long into the night each day. Under the training leadership of Lillian Garcia Peterkin and Laura Thomas, they experienced the curriculum first hand as DeafBlind consumers, taught parts of the curriculum as Trainers and then provided feedback as Experts. DSAT extends its sincere appreciation to this group of ten for their contributions: Ashley Benton (NC), Lee Clark (MN), Elaine Ducharme (MA), Andy Granda (CA), Victoria Ann Magliocchino (FL), Karen Parks (CO), Kim Powers-Smith (TX), Angela Theriault (WA), Christopher Woodfill (NY), and Bryen M Yunashko (IL).