Since 2010, more than 250 deaf and hard of hearing advocacy specialists have been trained as DSAT Consumer Trainers.  This group of individuals possesses the knowledge of and passion for advocacy, their desire to provide advocacy training, and
for their access to the Deaf Community and consumers of vocational rehabilitation. Fourteen members of this group are referred to as DSAT Master Trainers. In addition to providing consumer trainings, they are qualified to conduct train-the-trainer
trainings to deaf, hard of hearing and deaf-blind individuals interested in becoming a DSAT Consumer Trainer.
Trainer Attributes and Qualifications
Based on the effective practices findings of Communication Service for the Deaf (CSD), the DSAT curriculum is designed as a peer-led training. In addition to this strong preference for Deaf, hard of hearing and Deaf-blind trainers, trainers
must also have: • Native level fluency in ASL • A strong knowledge of and ongoing exposure to the Deaf community • A working knowledge of the target audience's needs • In-depth knowledge of local, state and national resources • Ability to translate written
contents into communication modes and/or language choices appropriate for participants.
Directory of DSAT Consumer and Master Trainers
The Directory below lists DSAT Consumer Trainers. In addition, those DSAT Consumer Trainers who are Master Trainers are also identified in the Directory. Many of these individuals are available to provide training upon request, which is often taught in
a six to eight hour blocks of time or longer. While the Directory groups the trainers according to the NCIEC region in which they reside, they may be available to travel outside the region. Please contact them directly to learn of their availability and
service fees (if any). Also, please note that those without contact information are not available for training.
NCIEC Regional Center Map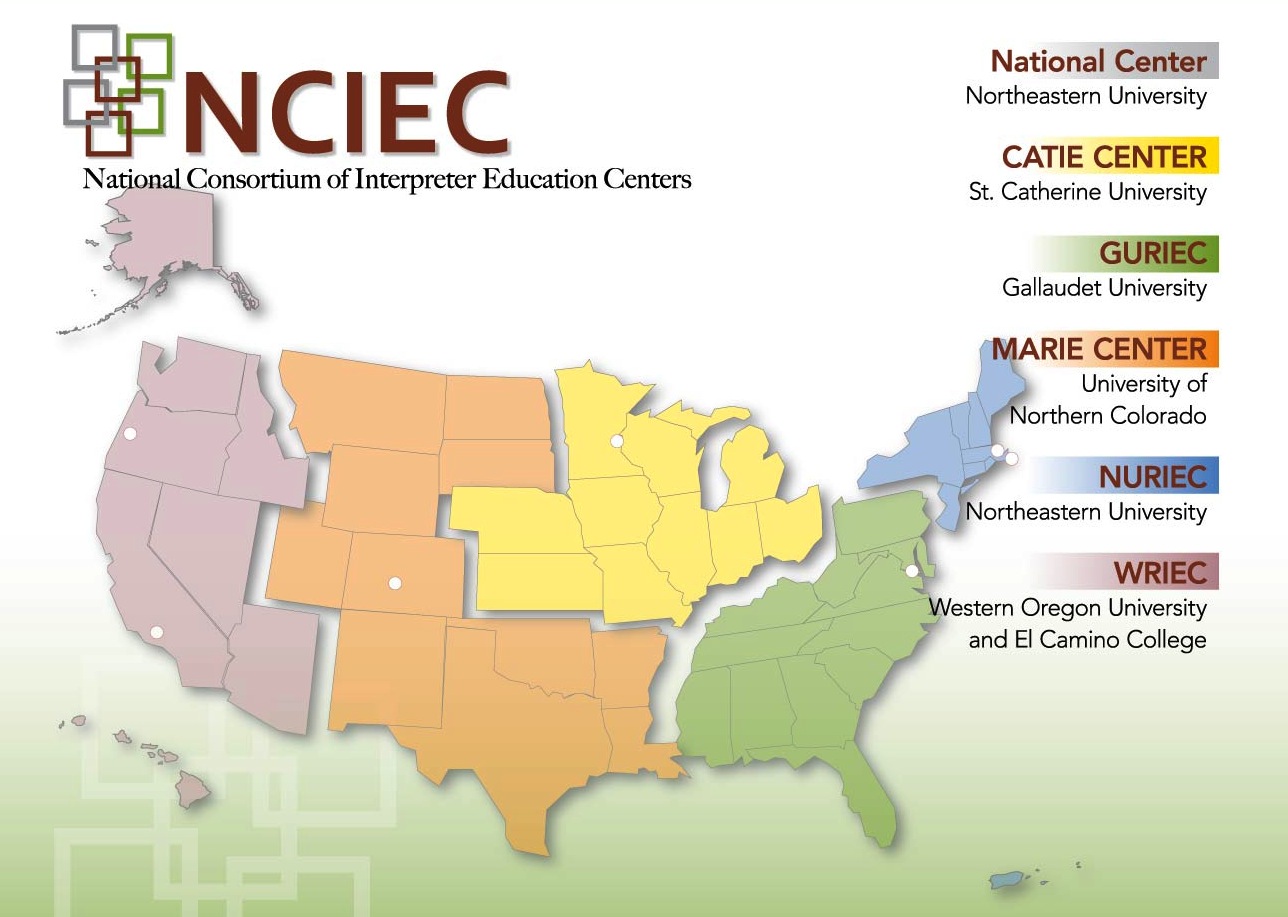 Directory of DSAT Master Trainers
PLEASE NOTE: TO THE BEST OF OUR KNOWLEDGE THESE EMAIL ADDRESSES ARE UP TO DATE. BUT ACCURACY AND AVAILABILITY DEPEND ON NOTICE OF CHANGES BY THE TRAINERS. AS OF 9/30/16, THE NCIEC WILL NO LONGER SUPPORT THIS SITE AND WE WILL NOT BE ABLE TO CORRECT THIS LISTING. WE LEAVE THIS INFORMATION AVAILABLE AS A CONVENIENCE, AS IS.
Circle = Also qualified to conduct Train the Trainer workshops
Triangle = Also qualified to conduct DBSAT Trainings
CATIE Center Region: Upper Mid-West
Name
City/State
Contact Information
Availability
Kim Anderson
Lansing, KS

[email protected]

Anytime
Angela Botz
Alton, IL

[email protected]

618-208-1146 VP
Anytime 9AM-4PM
Colleen Burdiss
St Louis, MO

[email protected]

Daily 8AM-4PM, weekends upon request
Lee Clark ▲
St Paul, MN
[email protected]
Anytime
Sheri Cook
Murphysboro, IL

[email protected]

Anytime
Sheryl D. Emery ●
Southfield, MI
[email protected]
Please contact for availability
Amanda Dudgeon
Peoria Heights, IL

[email protected]

VP: 309-863-5847
Anytime, evenings and weekends (Flexible schedule that fits the best)
Matt Gwynn
Olathe, KS

[email protected]

Friday evenings and weekends
Tamara Hogue
Jacksonville, IL

[email protected]

217-717-9658 VP
Weekends
Hersel Jackson
Rock Island, IL
309 948 6050 VP
Anytime
JJ Jones
Kansas City, MO

[email protected]

9AM–4PM
Kimberly Kuhns
Olathe, KS

[email protected]

Anytime
Kathy Manlapas
MN

[email protected]

Evenings and weekends
Mindy Joy Mayer
Chicago, IL

[email protected]

Anytime
Michelle Mendiola
Chicago, IL

[email protected]

Anytime
Anil Phadke
Schaumburg, IL

[email protected]

Anytime
Paul Pyers
Jacksonville, IL

[email protected]

Charleen Scully ●
Indianapolis, IN

[email protected]

Please contact for availability
Deloris Summers
IL

[email protected]

Anytime
Laura J. Thomas ●
E. Moline, IL

[email protected]

Available most times. Please contact for availability.
Joseph Vieira
Jacksonville, IL

[email protected]

Evening and weekends
Bryen M Yunashko ●▲
Chicago, IL

[email protected]

Anytime
GURIEC Region: Atlantic Seaboard and Southeast U.S.
Name
City/State
Contact Information
Availability
Jimmy Autrey ●
Morganton, NC

[email protected]

Please contact for availability
Lisette Belanger
Wheaton, MD

[email protected]

Please contact for availability
Ivy Bennett
Appomattox, VA

[email protected]

Please contact for availability
Ashley Benton ▲
Raleigh, NC

[email protected]

Please contact for availability
Daniel Bolton
Ringgold, GA

[email protected]

Please contact for availability
Tracy Bumgarner
Atlanta, GA

[email protected]

Please contact for availability
Julie Burton ●
Cedartown, GA

[email protected]

Please contact for availability
Rita Campbell
Marion Station, MD

[email protected]

Please contact for availability
Trina Cartwright
Salisbury, MD

[email protected]

Please contact for availability
Rickey Clemons
Gurley, AL

[email protected]

Please contact for availability
Alissa Conover
Rochelle, VA

[email protected]

Please contact for availability
Mary Crews Nunnally
Henrico, VA

[email protected]

VP: 804-433-3277, Phone: 804-322-3456
Please contact for availability
Torii Deaner
Verena, VA

[email protected]

Please contact for availability
Michael Deuel
Huntsville, AL

[email protected]

Please contact for availability
Anita Dowd
Frankfort, KY

[email protected]

Please contact for availability
Becky Ferrel
Ringgold, GA

[email protected]

Please contact for availability
Brian Fleming
Augusta, GA

[email protected]

Please contact for availability
Kristi Fohrenck ▲
Missouri

[email protected]

Please contact for availability
Kelsey Gilstrap
Virginia Beach, VA

[email protected]

Please contact for availability
MaryRose Gonzalez
Fredericksburg, VA

[email protected]

Please contact for availability
Star Grieser
Nolfolk, VA

[email protected]

Please contact for availability
Beverly Hanyzewski
Troy, AL

[email protected]

Please contact for availability
Vicki Hardy
Pell City, AL

[email protected]

Please contact for availability
Laura Herman
Morganton, NC

[email protected]

Please contact for availability
Wendy Hill
Lanham, MD

[email protected]

Please contact for availability
Harriett Hollingsworth
Huntsville, AL

[email protected]

Please contact for availability
Michelle Hoskinson
Stuarts Draft, VA

[email protected]

Please contact for availability
Kelly Stockdale Hyder
Adairsville, GA

[email protected]

Please contact for availability
Mona Ivy
Philadelphia, PA

[email protected]

Please contact for availability
Ikumi Kawamata
Washington, DC

[email protected]

Please contact for availability
Chuck Kelly
Portsmouth, VA

[email protected]

Please contact for availability
Tammie Kelly
Sylacauga, AL

[email protected]

Please contact for availability
Vyron Kinson
Atlanta, GA

[email protected]

Please contact for availability
Susan Lambert
Odenville, AL

[email protected]

Please contact for availability
Kristin Lazor
Bloomsburg, PA

[email protected]

Please contact for availability
Wendy, Lozynsky
Birmingham, AL

[email protected]

Please contact for availability
Victoria Ann Magliocchino ▲
Jacksonville, FL

[email protected]

Please contact for availability
Kimberly Majus
Salisbury, MD

[email protected]

Please contact for availability
Fred Miller
Chelsea, AL

[email protected]

Please contact for availability
Anita Moore
Elmore, AL

[email protected]

Please contact for availability
Matt O'Varanese
Charlottesville, VA

[email protected]

Please contact for availability
Beth Overland
Northport, AL

[email protected]

Please contact for availability
Craig "Hank" Passi
Baltimore, MD

[email protected]

Please contact for availability
Jared Patton
Columbus, GA

[email protected]

Please contact for availability
Nancy Ravindra
Decatur, AL

[email protected]

Please contact for availability
Shannon Reese
Montgomery, AL

[email protected]

Please contact for availability
Becky Ripley
Talladega, AL

[email protected]

Please contact for availability
Daisy Rivenbark
Wilmington, NC

[email protected]

Please contact for availability
Howard A. Rosenblum
MD
Kathy Schwabeland
Baltimore, MD

[email protected]

Please contact for availability
Stephanie Scott
Wilson, NC

[email protected]

Please contact for availability
Randy Shaw
Duluth, GA

[email protected]

Please contact for availability
Niesha Shepard
Washington, DC

[email protected]

Please contact for availability
Melody Stoner
Atlanta, GA

[email protected]

Please contact for availability
Dana Tarter ▲
Rome, GA

[email protected]

Please contact for availability
Kimberly Thornsberry ●
Huntsville, AL

[email protected]

Please contact for availability
Rockey Truman
Talladega, AL

[email protected]

Please contact for availability
Renee Walker ▲
Macon, GA

[email protected]

Please contact for availability
Marcus Washington
Montgomery, AL

[email protected]

Please contact for availability
Michelle Williams
Prattville, AL

[email protected]

Please contact for availability
Jenny Witteborg
Rixeyville, VA

[email protected]

Please contact for availability
Tracey Wyant
Germantown, MD

[email protected]

Please contact for availability
MARIE Center Region: Mid-West
Name
City/State
Contact Information
Availability
Alma Rosa Pizarro-Gould ●
Round Rock, TX

[email protected]

361-288-8787 VP
Most days, evenings and weekends
Laurie Bishop
Highland, UT

[email protected]

801-657-5209
Anytime
Corina Gutierrez ●
Albuquerque, NM

[email protected]

Please contact for availability
Ricky Harris
Abilene, TX

[email protected]

VP: 325-400-5782
Weekdays
Ann Horn ● & Randi Turner ●
Austin, TX

[email protected]

VP 512 377 1573 home VP 512 410 1387 work

[email protected]

512.410.7691 VP 512.567.2634 (V-cell) can text or call
Taught as a deaf/hearing team. Possible weekdays, prefer evenings and weekends.
Lynette Linker
Madisonville, LA

[email protected]

985.200.2173
Some evenings and Saturdays
Rob Loveless
Bloomington, IN

[email protected]

Varies, subjected to change
Pamela Mower
Taylorsville, UT

[email protected]

Anytime
Ron Nelson
Salt Lake City, UT

[email protected]

801-657-5222 VP
Anytime, Evenings
Mistie Owens
Midvale, UT

[email protected]

801-584-9846, text only
Please contact for availability in Utah and Idaho
Lynn Null
Tulsa, OK/td>

[email protected]

Evening and weekends
Karen Park ▲
CO

[email protected]

Anytime
Stephen Persinger
Salt Lake City, UT

[email protected]

Please contact for availability
Lisa Potter
Baton Rouge, LA

[email protected]

225.341.6431 VP
Please contact for availability
Michelle Rolewitz
Fargo, ND

[email protected]

701.205.3041 VP
Please contact for availability
NURIEC Region: Northeast and Caribbean Island Territories
Name
City/State
Contact Information
Availability
Michelle Ames
Portland Maine

[email protected]

Conducted through Community Counseling Center. Contact Kristine Dach at

[email protected]

.
Rachel Boll
Denver, CO

[email protected]

Please contact for availability
Michelle Cline
Bloomingdale/Trenton, NJ

[email protected]

Evenings/weekends
Keri Darling ●
VT

[email protected]

Please contact for availability
Elaine Ducharme ▲
Boston, MA

[email protected]

Please contact for availability
Tammy Ennis ●
Bridgeport, CT

[email protected]

Please contact for availability
Dan Foley
Worcester, MA
DPF

[email protected]

After 3pm weekdays and anytime on weekends
Bonnie Kaplan
Boston, MA,

[email protected]

Anytime
Tim Riker
Somerville, MA

[email protected]

Please contact for availability
Vicki J. Sullivan, MA, RDT, CDI
Lawrenceville, NJ

[email protected]

Concentration in employment and job retention
Ivy Velez
Marlborough, MA

[email protected]

866.927.7805 – VP
Please contact for availability
Stephen Weiner
Boston, MA

[email protected]

Anytime
John Wilcox
Boston, MA

[email protected]

Weekday evenings
Christopher Woodfill ▲
New York, New York

[email protected]

Please contact for availability
WRIEC Region: Western U.S. and Pac Rim Islands
Name
City/State
Contact Information
Availability
Elizabeth Andrews
Anchorage, AK
Brenda Aron
Seattle, WA

[email protected]




[email protected]

Evenings and weekends
Beca Bailey
Phoenix, AZ

[email protected]

Linda Bove
Phoenix, AZ

[email protected]

Charles Chee-Weng-Chang
Twin Falls, ID

[email protected]

Evenings and weekends
James Christianson, Jr.
Bellingham, WA

[email protected]

Evenings and weekends
Larry Devenny
Phoenix, AZ

[email protected]

Sean Furman
Phoenix, AZ

[email protected]

Jennifer Gajardo
Phoenix, AZ

[email protected]

Andy Granda ▲
CA

[email protected]

Please contact for availability
Emmet Hassen
Phoenix, AZ

[email protected]

Rae Hensan
Kingman, AZ

[email protected]

Damon Johnson
Blaine, MN

[email protected]

Evenings and weekends
Rev Nick Leflors
Everett, WA

[email protected]

425.698.2223
Anytime
Joy Maisel
Riverside, CA

[email protected]

909.398.0150
Evenings and weekends
Jerrel Mathern
Seattle, WA

[email protected]

Please contact for availability
Colleen Matusof
Honolulu, HI

[email protected]

Please contact for availability
Kim Minard
Phoenix, AZ

[email protected]

Cynthia Napier
Riverside, CA

[email protected]

Thomas J. Posedley
Phoenix, AZ

[email protected]

Timothy Sanger
Phoenix, AZ

[email protected]

Megan Scarboro
Phoenix, AZ

[email protected]

Beth Smiley
Surprise, AZ

[email protected]

Hal Suddreth
Canyon Country, CA

[email protected]

661.513.4988 VP
Please contact for availability
Angela Theriault ▲
Portland, OR

[email protected]

Please contact for availability
Dale Tolstead
Anaheim, CA

[email protected]

Fridays and Saturdays, others upon request